Club Calendar
The calendar for clubs and non-profits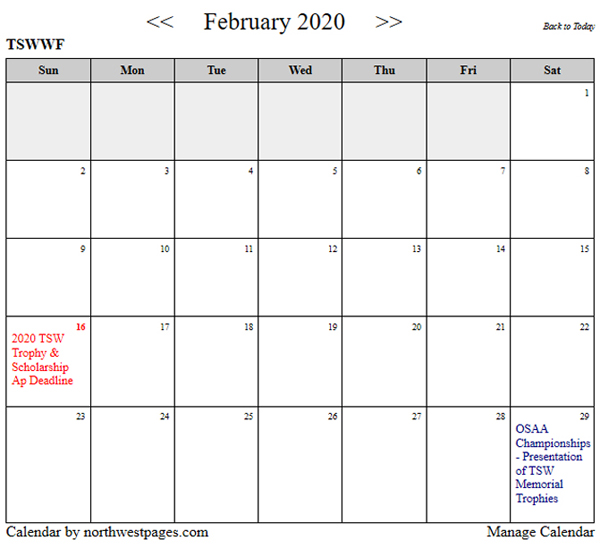 Easy to use
Calendar can be embedded on your website using iframe or it can be opened directly in it's own window.

User can move forward or backward one month at a time, and can quickly return to current month using "Back to Today" link.

Calendar is mobile friendly and will adjust to fit smart phones, iPhones, android tablets, iPads, laptops, desktops, etc. If embedded on your website then your website must be mobile friendly as well.

Calendar events can be imported to existing calendar apps such as Google calendar app and Apple calendar app on phones, tablets, iPhones, and iPads. Other calendar apps that fully support importing ICS files with RRULE records using ByMonth, ByDay and ByYearDay fields (see RFC5545) may also work.

Calendar is AD FREE. No ads, no tracking, no nothing. Calendar is good choice for groups, clubs, churches, non-profits, etc. who are hosted by Northwestpages.com.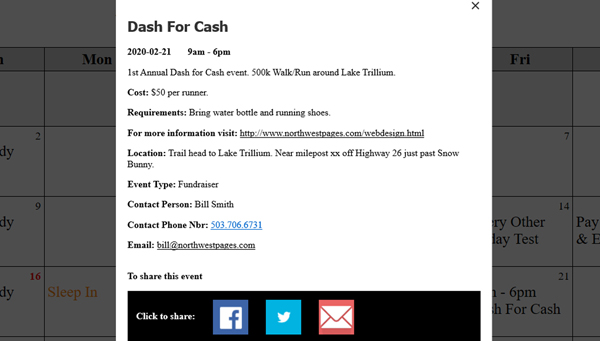 Simple Pop Up Window
Clicking on any event will bring up pop-up window listing all event details.

Social Media icons allow easy sharing of event on Facebook, Twitter, and Email.

You can give people links that will open up a page containing the same information as shown in the pop up window.

Birthdays and Anniversaries can be set to show age/years.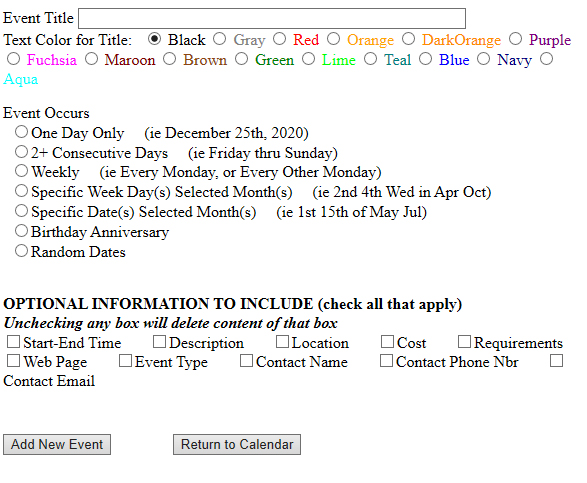 Adding New Events
Only calendar owners can add, modify, and delete events.

Easy to use. Enter title, choose event type (1 day, multiple days, weekly, monthly, annual, random).

Choose what optional information you want to add.

Additional input fields will automatically appear.

Events can be scheduled for specific days (1st & 15th, last day of month, etc.) or for specific week days (every Monday, 1st & 3rd Sundays, Last Friday, etc.). Events can be set up as every other Monday. Events can also be set up to be specific day (Dec 25th) every other year.

Recurring event falls on a holiday? No problem. Recurring events can easily have skip dates added. Sorry - birthdays and anniversaries can't be skipped. You'll turn 40 anyway. Click here to see DEMO calendar.